Marie Cederschiöld högskola

Beskrivning och information
Allmän information
| | |
| --- | --- |
| FORMAT: | 169x239mm (G5) |
| PAPPER OMSLAG: | 300g Edixion |
| PAPPER INLAGA: | 100g Edixion |
| EFTERBEHANDLING: | Avhandlingen limbindes |
Preliminär produktionsplan
1- Fyll i formuläret, så får du en estimerad offert inom kort med en produktionsplan.
Du behöver inte vara precis när du uppger antal sidor, fråga på något du anser rimligt så justeras det senare när vi vet bättre.
Formuläret som du fyller i ligger även till grund för omslaget som vi sätter och mejlar dig ett pdf korr på som du svarar på snarast förstås!
Mejla gärna eventuell bild för omslag asap till original@eprint.se så ordnar vi ett korr på omslaget.
Dina pdfer kan du mejla till oss så fort du kan, döp filerna till "Kappa, Artikel 1, 2 osv.
Glöm inte att sätta "Printed by Eprint AB 2019" på tryckortssidan lämpligast under ISBN nr.
Processen tar minst 10 arbetsdagar där vi behöver 5 arbetsdagar från godkänt provtryck till leverans.
Det är viktigt att du håller dig till schemat för att vara säker på att få leveransen i tid.
OBS! Det är ingen bra idé att välj leverans på samma dag som du ska spika!
2- Skicka in dina filer efter produktionsplanen senast 08:00 på morgonen, då kan Du hämta provtrycket på eftermiddagen samma dag.
3- När Du har gjort dina ändringar mejlar Du nya filer där Du har gjort ändringar till oss.
Därefter får Du ett PDF korr från oss som en slutgiltig versions kontroll på din avhandling + omslag innan vi börjar trycka.
Där ska Du även kontrollera färgsidorna som du valt är de rätta i pdfen.
Av trycktekniska skäl ligger det två avhandlingar sida vid sida, det ska vara så!
Du godkänner vår print-pdf med vändande mejl.
4- Tryckning av din avhandling kan nu starta.
Tryckeriet skickar fulltext-PDF på godkänd avhandling eller uppsats till ESBH:s högskolebibliotek för registrering i DiVA.
Tryckeriet skickar sju pliktexemplar till pliktbiblioteken och sju exemplar av avhandling eller uppsats till ESBH:s
tryckerisamordnare för distribution till högskolebiblioteken och ledningskansliet.
Att tänka på
Läs igenom texten noga innan du lämnar in dina filer. Provtrycket och PDF-korrekturer är till för att säkerställa en hög bildkvalitet och korrekt placering av text – inte rätta till stavfel, det arbetet ska redan vara klart.
Var nogrann med att kontrollera att alla sidor är med, bibliotekssidorna, artiklar, kappa och andra bilagor
Filformatet för tryckoriginalet ska vara PDF.
Bilderna bör ha en upplösning på minst 200 dpi.
Vi kan även hjälpa er med visitkort, brevpapper, kuvert, foldrar, vykort, produktblad, böcker, rapporter, flyers, affischer och roll-up.
---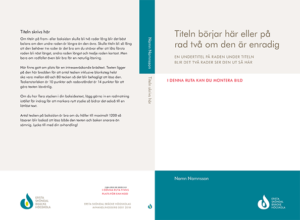 ---
Description and information

General information

| | |
| --- | --- |
| FORMAT: | 169x239mm (G5) |
| PAPER COVER: | 300g Edixion |
| PAPER INSERT: | 100g Edixion |
| FINISH: | Thesis is glue binded |

Preliminary production plan

1- You should send in your printable thesis/report as a PDF file(s). Remember also to send in the library pages, which should also be in PDF format. Email all your PDF files direct to

info@eprint.se.

2- You will receive a PDF proof for preview from E-Print.

3- If you need to make changes after the PDF proof you should email the whole thesis/document to E-Print again. Please remember to state your order number. In case of changes you will receive a new PDF proof.

4- When the PDF proof has been approved you will receive a hard copy proof at your delivery address.
Please inform us if would rather collect your hard copy proof at E-Print on Flygfältsgatan 26 in Skarpnäck.

5- When you have checked your trial print and are satisfied with it, contact E-Print to start the printing process. Now it will take about five working days until the edition is delivered to ESBH.

The printers will send a full-text PDF of the approved thesis or dissertation to ESBH's University Library for registration in DiVA, the Student Records. The printers will send seven deposit copies to the deposit libraries and seven copies of the thesis or dissertation to ESBH's Printing Coordinator for distribution to the University Libraries and the Management Office.

Please bear in mind

Read through the text thoroughly before handing in your files. The hard copy proof and the PDF proof have the purpose of assuring high quality of the pictures and correct placing of the text – not of correcting spelling mistakes; this work should have been done already.

Be careful to check that all the pages are there, the library pages, articles, the introductory chapter of a compilation thesis and other appendices.

The file format for the manuscript must be a PDF.

The pictures should have a resolution of at least 200 dpi.

We can also assist you with business cards, letterheads, envelopes, flyers, postcards, leaflets, books, reports, flyers, posters and roll-up.
---